In my
previous post
, I put together a list of questions to help in the decision-making of buying a sofa online. My answers to these questions lead me to purchase an English roll-arm sofa. In case you are not familiar with the English roll arm, it looks like the one below. It is classic, relaxed, and comfortable, with deep seating and low rolled arms, it is the perfect addition to any living or family room. Here are several reasons why I am in love with this divine beauty......
First, it has a classic form that will never go out of style. Second, I find the shape to be very versatile; a lot of different styles of furniture pieces will work well with the English roll arm. Third, the comfort factor! The sofa slopes back slightly so you can easily sink into it and never want to get up; therefore I dub this the perfect napping sofa. The depth of an English roll arm ranges from 40 inches to 46 inches depending on the style. Forth, The petite rolled arms and tight backrest are chic characteristics that I love so much! The tight backrest means no more fluffing the back cushions and that's a win for me! Last but not least it has legs! Legs on furniture can lighten up a room and make it breathe a bit. Depending on your style you can get turned legs, casters, or straight legs.
This Post Contains Affiliate Links
Here are the questions you should ask yourself when buying a sofa online. Next to each question is my answer.
1. What is your budget? Under $1000.00
2. Will it fit through the doorway for delivery? Yes
3. What size sofa/how will it be used? A long and deep sofa. Plenty of space for 3-4 people to sit or lounge while watching television, and long enough to stretch out for a nap.
4. What kind of fabric? Durable woven fabric
5. What color do you want? A light color: taupe, beige, or light gray
6. What style of sofa do you want? Traditional
7. Did you measure the space where the sofa will be placed and will the dimensions of the sofa fit in the space? Yes
After answering these questions it was time to pull my options together with inspirational photos.
Finding
Inspiration
is fun; this is where you can let your imagination run wild! Magazines, Pinterest, and Houzz are great sources for finding inspiration. Clip your favorite pictures of sofas from magazines and put them in a binder. When you are ready to shop you can use those pictures as a reference. Or if you have a Pinterest account set up a SOFA board and pin your favorites. Search for rooms on Houzz and save them to your idea book. All of these options will help you determine your style. As I began to look for ideas it was apparent that the roll arm was for me! Narrowing it down to my favorite style was challenging because there are so many sofa styles out there. Even the English roll arm has its own variations of style as you can see from the inspiration photos below. My ideal sofa should have a tight backrest, three seat cushions, casters, a long seat bench minimum of 90", extra deep seating, and a choice of fabric and color. Whew, that's a huge request. At first, I thought my ideal sofa was unattainable in my price range until I researched online and found some great options.
Please note that due to the nature of online shopping prices may change and items may go out of stock or be discontinued.
INSPIRATION
Here is what I found:
English Roll Arm Sofas Under $1000
Charles of London at Wayfair
$729.99
Montgomery 82" Upholstered Sofa
$819.99
Ophelia & Co. Tomlinson Sofa at Wayfair
$789.99
Ce'line Sofa at Wayfair
$869.99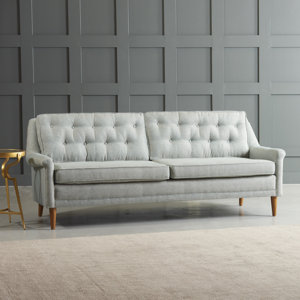 This one has three seat cushions and a tight backrest. The size is perfect for my space it measures 36" H x 92" W x 46" D. The legs are removable so it will fit through my front door. I can customize it with my choice of fabric and fabric color. The only downside is it doesn't have casters but I do like the turned legs.
So which one did I go for? The sofa I purchased is the Durham sofa. It met all my criteria and it was love at first sight! Even though I wanted casters I do like the turned legs. I picked out my fabric samples and they were mailed to me free of charge. Choosing the right sofa is not easy, let alone picking out the fabric. I highly recommend ordering fabric samples because they look so much different in person than online. The fabric I picked is Hilo Flax. It's a soft beige with a woven texture. This sofa is extra deep and so comfortable. I love it!
I purchased my sofa last year when I took on the challenge of a makeover to our living/family room. You can read about the makeover and see the before and after pictures
HERE
.